Allows the download of signal level result on the user's computer. The results exportation offers three options: download result in Google projection, download reprojected result and download visual layer.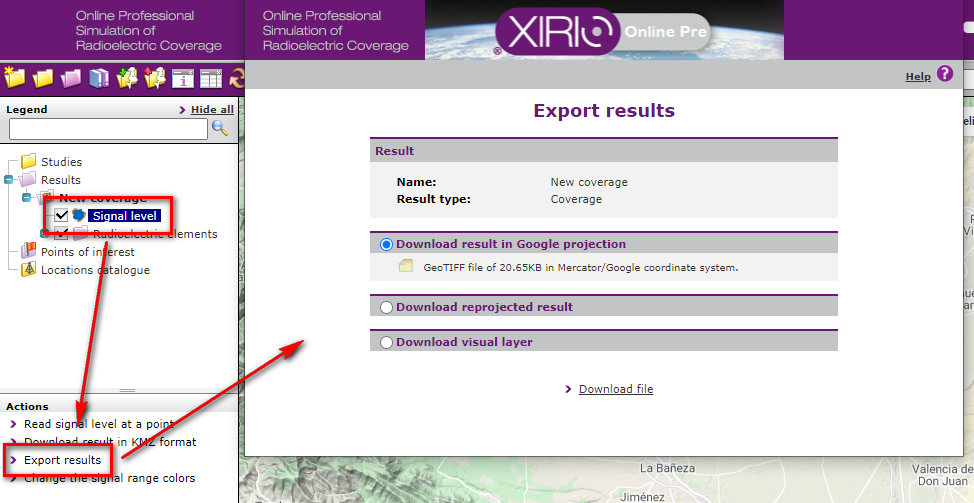 DOWNLOAD RESULT IN GOOGLE PROJECTION
It allows to download a file in GeoTIFF format with Mercator/Google coordinate system. This coordinate system is the one used by Google Maps. Not all commercial cartographic viewers can open this coordinate system, so in those cases it is necessary to use the download reprojected result option.
DOWNLOAD REPROJECTED RESULT
It allows to download a file in GeoTIFF format that contains values ​​of calculation result with the coordinate system selected by the user. The user can choose the coordinate system, between WGS84 and UTM (with Datum WGS84). It is also possible to create a compressed file.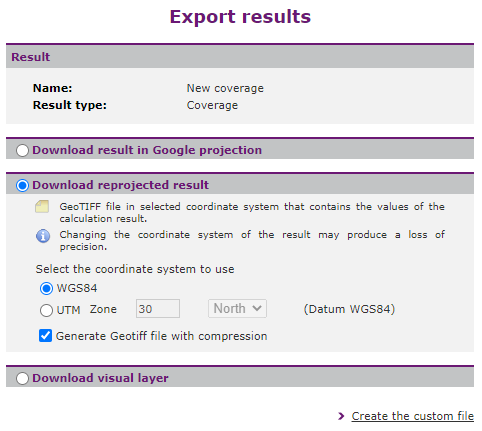 Once the coordinate system is chosen, select "Create custom file". This process can take a few minutes and, once it is finished, a link will be displayed to download the result.
It is important to know that the reprojection process may involve a minimum loss of the calculation accuracy.
DOWNLOAD VISUAL LAYER
It allows to download a PNG or JPEG file containing the calculation result visualization layer. The user can overlap this result display layer to a cartography obtained from Xirio's generic WMS servers.
Xirio also includes visual cartography from Open Street Map (OSM) project, which is free to use. These layers can be accessed from button "Base layer" of the cartographic viewer.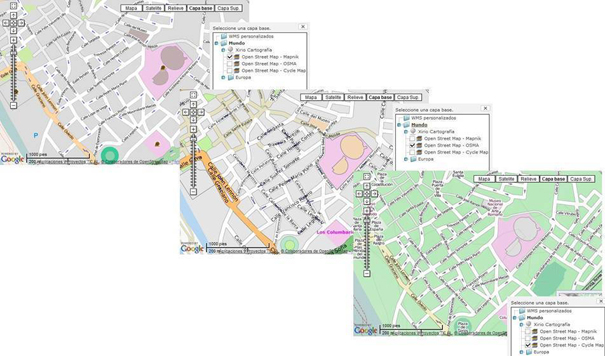 For more information on WMS services and the Open Street Map project, refer to the Xirio cartographic viewer section.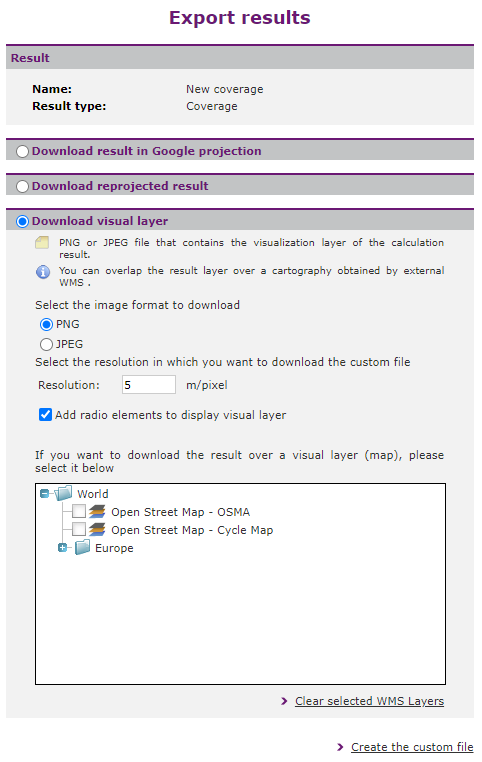 The custom file creation time can take several minutes. Once the file has been created, it is necessary to select "Download file". In the following illustration you can see the image in PNG format obtained following these instructions.