It is the main application area where users can visualize results and georefenced radio elements which are perfectly located by means of global cartography. Based on technology "Google", its handling is simple and intuitive as it inherits all the functionality of the well-known cartographic viewer "Google Maps". The handling of the cartography viewer can be consulted in Google Maps Manual.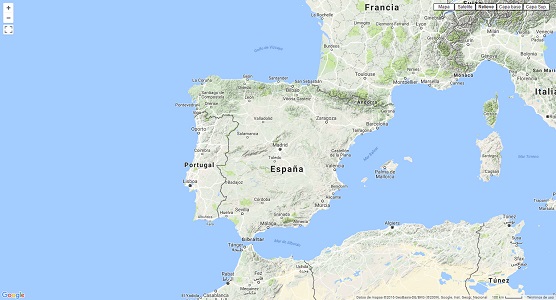 The Xirio, viewer, in addition to the typical layers of the Google viewer, has two others: Base layer and Overlay, whose function is to connect to WMS servers.
The Web Map Service (WMS) obtains maps of spatially referenced data, dynamically from geographic information from a known URL (WMS server address).
WMS operations can be invoked using a standard browser through requests in the form of URLs. The content of such URLs depends on the requested operation.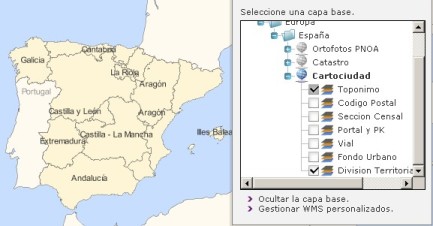 Xirio includes predefined WMS servers available to the user. The previous figure shows an example in which particular information selected by the user is displayed, in this case a map with the selected parameters is generated dynamically.
There is the possibility of creating personalized WMS by accessing through the link "Manage custom WMS services". In this case a table like the following is opened:

Create a custom WMS simply consists of adding an address as the one shown in the figure and assign a designation. Such addresses can be found easily on Internet sites that collect WMS services.
In the example, a custom server of Northern Australia has been created, which will be saved in the "Custom WMS" folder. The user can perform as many queries for information relating to this area , such as available parameters the server has: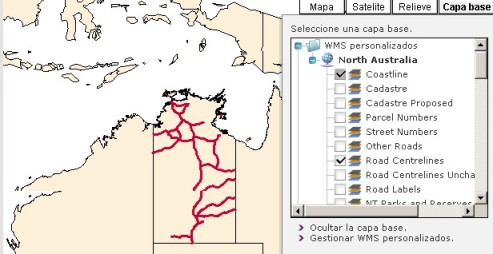 Overlay layer has the same features as Base layer. They complement each other to overlap one over the other, due to only from one of them is not possible to select different WMS server parameters simultaneously. The difference is the Base layer is opaque while the Overlay is transparent.
One of Xirio's WMS servers has OpenStreetMap information.
OPENSTREETMAP PROJECT
OpenStreetMap is a project that allows creating and providing free and editable worldwide cartography and street maps from public domain cartographic information or under open source license compatible with the OpenStreetMap license.
In areas where there are free data these are improved independently, via wiki-style, editing for its community of contributors.
Design and structure are similar to Google Maps, any registered user can edit a map, add information by completing it and updating the database quickly and efficiently.
Maps are created using geographic information captured with GPS mobile devices, orthophotos and other free sources. This cartography, both the created images as vector data stored in its database, is distributed under Creative Commons Attribution-ShareAlike 2.0.