To calculate LTE interference and capacity, the following parameters are needed to be configured.
CAPACITY PARAMETERS
In order to perform calculations that are fully consistent with actual behavior of the network, the users must set their own users distributions. This requires defining entornos with which it is possible to simulate different behaviors for each coverage of the study, and users groups, which are distributed in fixed points distributed by the study area.
These parameters are not necessary when performing interference calculations.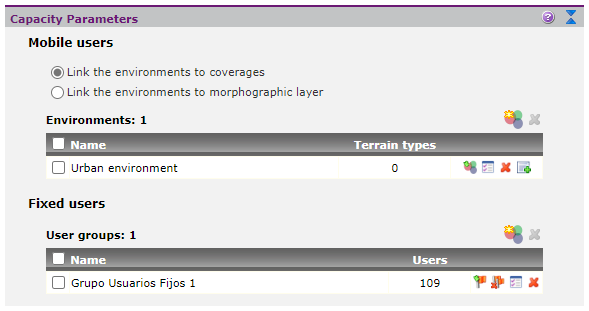 From the environment list of LTE capability parameters the user can create

, modify

, delete

and link environment to the study coverages

. These environments can be assigned to the stations coverage areas or to a morphographic layer.
In the fixed user groups list, the user can create new user groups

, modify them

, delete them

and assign their geographic location with the coordinate import from KMZ, KML or TXT file

.
CARTOGRAPHY
When configuring the study LTE enviroment, it is possible to define indoor and outdoor densities of terminals. For these distributions to take effect in the calculation, it is necessary to use a cartography that distinguishs between these two scenarios.
The cartography of the multi-coverage study offers users the possibility to use terrain models capable of show this effect, as well as obtain more accurate interference results.