Geographical area that covers all points on which signal level result is wanted and, therefore, where calculations will be performed.
The area is a rectangle and can be defined by entering the coordinates manually, in the study configuration dialog :

or drawing a rectangle in the viewer with the mouse selecting the option

: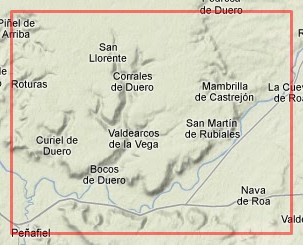 Once the area has been drawn, it can be changed in the viewer by selecting and dragging any of its four corners.
It is also possible to automatically adjust calculation areas of a single coverage study, all coverages of a multi-coverage or the total area of ​​multi-coverage. This functionality is available from the actions window using the "Automatic area adjustment" option or from the studio setup screen using

that appears in "Calculation area" section.
The automatic adjustment of the calculation area is a estimate of the maximum distance reached by each transmitter in radial every 10º. This estimation is done using catrography selected in the study with the maximum free resolution (MFR) and the specific calculation method of each study. You can choose between the following settings:
•Adjustment by distance. Permite especificar el radio del área de cobertura.
•Adjustment by signal level. It allows to adjust the calculation area according to the signal level (field or power) specified by the user. Usually, this value matches the receiver's reception threshold. However, since profiles are calculated every 10º, it is advisable to add an error margin (10-20 dB), depending on technology and the orographic environment.
•Adjustment by interference level. It allows to adjust the calculation area depending on the interference level. To ensure the area meets all coverage free of interference, this value should be, at least, the sum of the transmitter reception threshold plus the value of co-channel protection ratio established in the rejection factor (Interference parameters of the Multitransmitter study).
For the last two options, the user can limit the maximum setting distance.