A study is the basic unit of work in Xirio. In it the user can perform various simulations of its elements radio behavior: transmitters, receivers, ends, compute method, etc.
In Xirio there are 5 different studies, each with a different purpose.
The following sections explain how to perform each types of study, from setting the parameters needed for the calculation to obtain the results.
Before starting planning a study, it is recommendable to know the functionality offered by the toolbar at the top of the viewer, s it is an essential complement to help optimizing planning process and streamlines the steps to develop.
Available studies in Xirio include:
•Link
Studies File Actions
You can access the following options from the actions window of the study profile :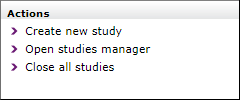 •Create new study. Creates a new study based on the type of study and desired service (technology to simulate). From this service, Xirio properly configure the radio parameters of the study to perform a coherent and realistic simulation. For further information, How to create a Study?.
•Open studies manager. Shows a window with all studies stored on the user's account. These studies are organized according to the type of study. For further information, How to open a Study?.
•Close all studies. Closes all studies of the current session .