The Xirio feeder corresponds to the typical concept of Radio Frequency cable or waveguide between the transmitter/receiver element and the antenna, not considering combinatorial elements, dividers or connectors. Since they can be used at various frequencies they can be formed by one or more attenuations. Each of these attenuations has associated a working frequencies range, so that the union of these ranges is determined the feeder working frequencies range.
Feeders catalog allow to create in the different studies, feeders preconfigured with values set by the user and then calculate the losses with its length.
The filter by Frequency band returns all feeders whose frequency range is between the initial and final frequency of the selected band.
The user has available filter by name, which allows to search for characters within the feeder name. This Xirio filters supports wildcard characters such as the asterisk (*) or the query (?).
In addition, the user can define their favorite catalog items

to perform a filtering that only shows these items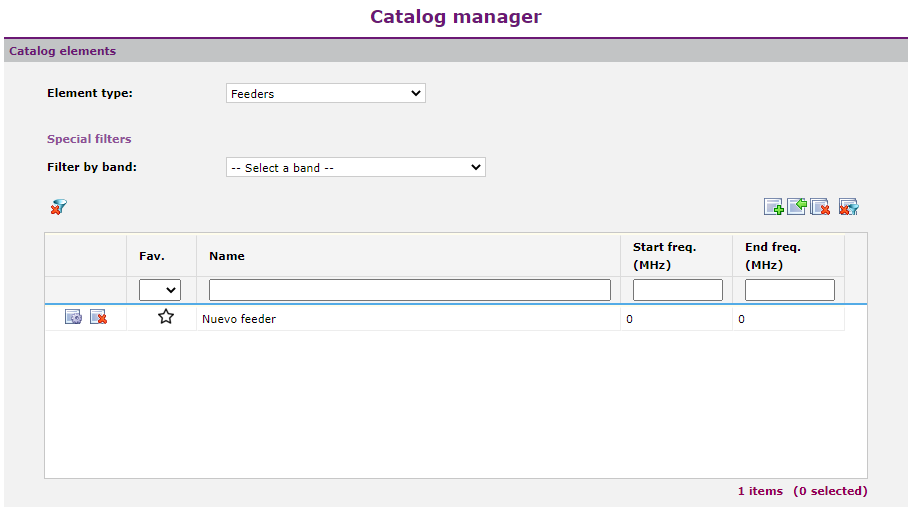 Once the user clicks "Search" button, a filter will be combined with all the options selected by the user. In the case that there is no entry that fulfills all the selected features, the lower list will be empty.
When the feeders have been filtered, the user can modify, delete or create new ones.
The user can modify, edit or consult each catalog element using the feeders edition dialog.