All the 5G parameters in the mobile terminal initially have a default configuration when selecting the type of service (technology) of the study, with adequate or typical values ​​of the type of simulation to be carried out. It is recommended, however, to be reviewed and specified by the user to adapt their simulation to the reality of the equipment to be simulated.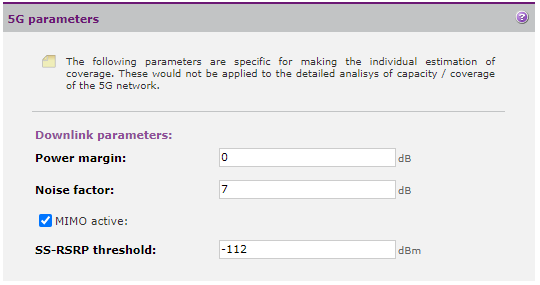 Depending on the type of path (uplink or downlink) to be simulated, either the Downlink or Uplink parameters specified in the 5G parameters will be used in the calculation.
•Noise factor: Noise factor of the mobile terminal.
•Active MIMO: Indicates whether the user's mobile terminal has the ability to support MIMO techniques in the industry.
•SS-RSRP threshold: Minimum power required to receive the SS-RSRP signal.