This option allows you to set different ranges of received signal level. Each interval is assigned to a color for subsequent results visualization.
There are three intervals that can be seeing by deploying the table, which is hidden by default. Each one of them covering a range of 10 units. The first one has the lowest threshold reception from the service selected.
Both the limits and the number of units included in each range can be modified. Also, you can add new ranges or delete theexisting ones from the icon corresponding to each range.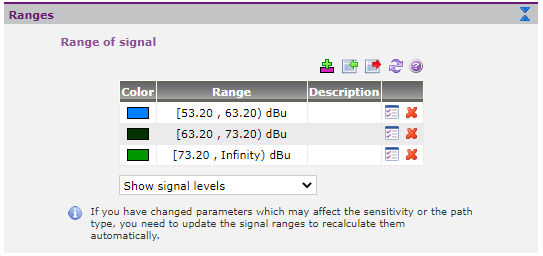 From the top icons, you can add new ranges, import ranges form a template that has been created from the Template Manager or generate your own template.
HF SERVICE SPECIFIC RAGES
For HF coverages, two more groups of ranges are established. Its configuration is analogous to that of the signal ranges. These ranges of colors are those of the SNR results in reception and circuit reliability for HF services using the Rec. ITU-R P.533.