The result of a coverage study consists of a visual layer of signal level representing level received at each point in calculation area and a radio element representing the transmitter used in calculation.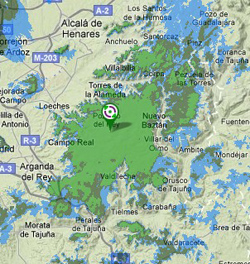 The user can activate and deactivate the visual layer or the radio element by checking or unchecking the box corresponding to that element in the legend tree. The shares that can be realized on a hedge result are the following: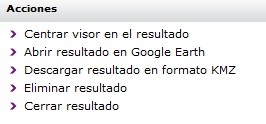 These actions are available in the action window when a coverage result is selected in the legend tree: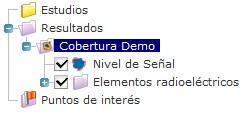 •Center viewer on result. Locates the selected coverage on the viewer.
•Open result in Google Earth. Run Google Earth app to open the selected link result.
•Download result in KMZ format. Save a Google Earth KMZ file with the calculation result on user's computer. This may take several seconds while Xirio prepares the corresponding file for the download, depending on the data volume.
•Delete result. Deletes the selected result from the user's account.
•Close result. Closes the result and removes it from the viewer.
HF SERVICE SPECIFIC RESULTS
When a coverage calculation is made with the HF service, in addition to the signal result, the SNR and reliability results will be obtained.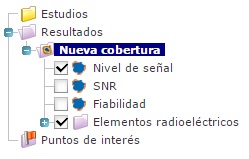 SNR result
This result shows on the display the SNR in reception at each point of the calculation area.
Reliability result
This result shows the circuit reliability at each point, understood as the probability of exceeding the threshold value at each point in the calculation area.
ACTIONS OF THE SIGNAL LEVEL VISUAL LAYER
In particular, the signal level visual layer of a coverage result has associated the following actions: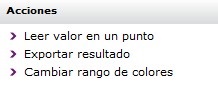 These actions are available in the actions window when the signal level visual layer is selected in the legend tree:
•Read signal level at a point. Allows to obtain the sign level in a location by selecting it in the viewer. The sign value will be showed in a window of information .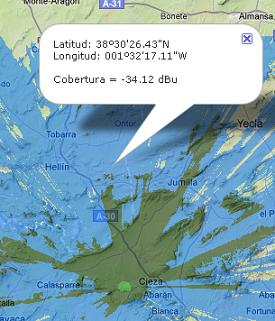 •Export results. Allows the download of the signal level result on the user's computer:.
•Change the signal range colors. Allows to modify the color ranges associated with the different signal levels and add new ranges.