Contains all published results for the active user organized by a tree-shaped structure.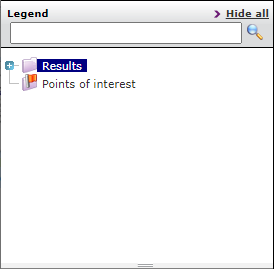 The Results root folder stores study results.
Different branches are deployed from each element to reach a final node. These ramifications are the different types of results and the radioelectric elements (transmitters, receivers ...).
In a simple coverage there is a single type of result: Signal level.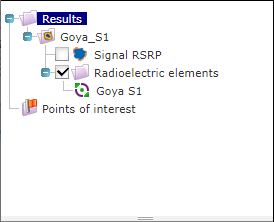 In the case of multiple coverage, there are three types of results: Signal, Overlap and Best server.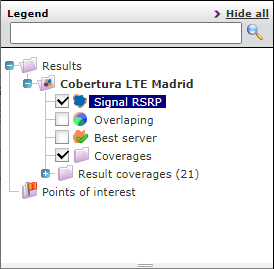 The box corresponding to the Signal result in the multiple coverage appears activated by default initially.
An activated box allows the display of a radio result or element/s in the map viewer. Several boxes can be activated at a time, so that several results can be displayed simultaneously, along with a combination of results and radio elements.
There is also a folder in the legend that contains points of interest. A point of interest is a mark on the map in some location of interest to the user.