When a Xirio study is calculated, the simulation result is stored in your user profile, indicating the calculation date and the expiration date of this.
When clicking the icon

on the toolbar a dialog will shown with all the available results in your account. In this dialog it is possible to sort the results by clicking on the headers of each column.
In addition to access your own results, Xirio enables you to publish and share these results with other users, as well as create and manage your own visualization users.
To open any results, select the corresponding icon
in the table. You can open multiple results before closing the dialog.

The selected result will be shown in the main screen caption. By default, the display is not updated with the elements of the result, it will is necessary to activate them manually.
To view the results or radio elements, the user should check the desired items in the caption and they will be immediately displayed on the viewer.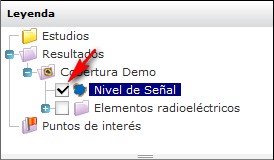 Either for the profile study or for the effective height study, you can see the profile graph or the profile report by selecting the appropriate result in the caption (1) and clicking "View" in the window of Actions (2). A window will be opened with the selected result.