Link studies are designed to analyze the microwave radio link viability between stations in the fixed service. In order to carry out specific calculations to analyze the link quality and unavailability, it is necessary configure ends and radio equipment, also the specific link parameters such as the digital hop type, objectives, protection and diversity method, speed, time between failures, etc. Xirio implements all functions and algorithms necessary for the digital radio links in the fixed service planning, described in Rec. UIT-R P.530; the user can also modify compute method parameters implemented in Xirio.
In order to create a link study, you have to select the study type from the

"Create new study" icon or from the Actions window link and specify the service or technology.
Once the service is selected and the study is created, the dialog will open to configure link parameters. The link study dialog is divided into four sections:
1.Study
2.Ends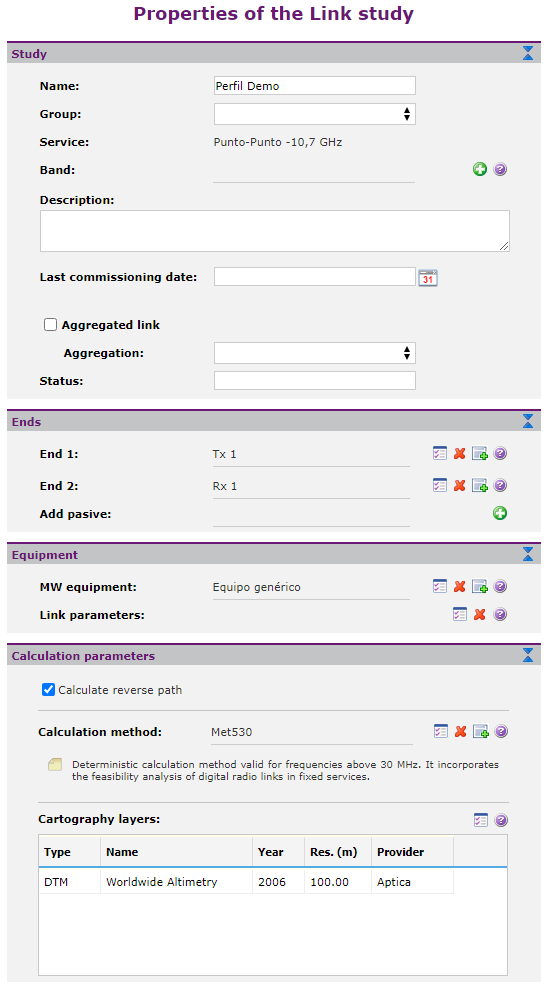 There is further information about actions in a link study available for users.
The result of a link study calculation includes graphical information about link visibility and a complete link report. In addition, the user can request Xirio to include in the link calculation a digital digital hop report.
FIXED SERVICE SPECIFIC PARAMETERS
End section
This section allows to configure the ends and passive elements of the link.

Equipment section
This sections allows to configure the radio equipment of the link ends.

HF SERVICE SPECIFIC PARAMETERS
Results ranges section
Allows you to set the signal, SNR in reception and circuit reliability result ranges for HF services using the Rec. ITU-R P.533.