From the link result actions window is possible to access the following options: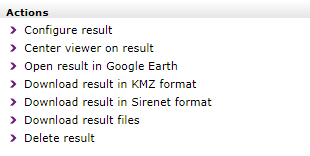 •Configure result. Opens properties result page that allows to configure it for publication.
•Center viewer on result. Find the selected result on the viewer.
•Open result in Google Earth. Run Google Earth app to open the selected link result.
•Download result in KMZ format. Save a Google Earth KMZ file with the calculation result on user's computer. This may take several seconds while Xirio prepares the corresponding file for the download, depending on the data volume.
•Download result in Sirenet format. Generates a link to a file that Xirio will create to export the result to Sirenet.
•Delete result. Deletes the selected result from the user's account.
•Close result. Closes the result and removes it from the viewer.