The "Studies" tab contains information regarding the interaction of the tool with the user when working with radio studies.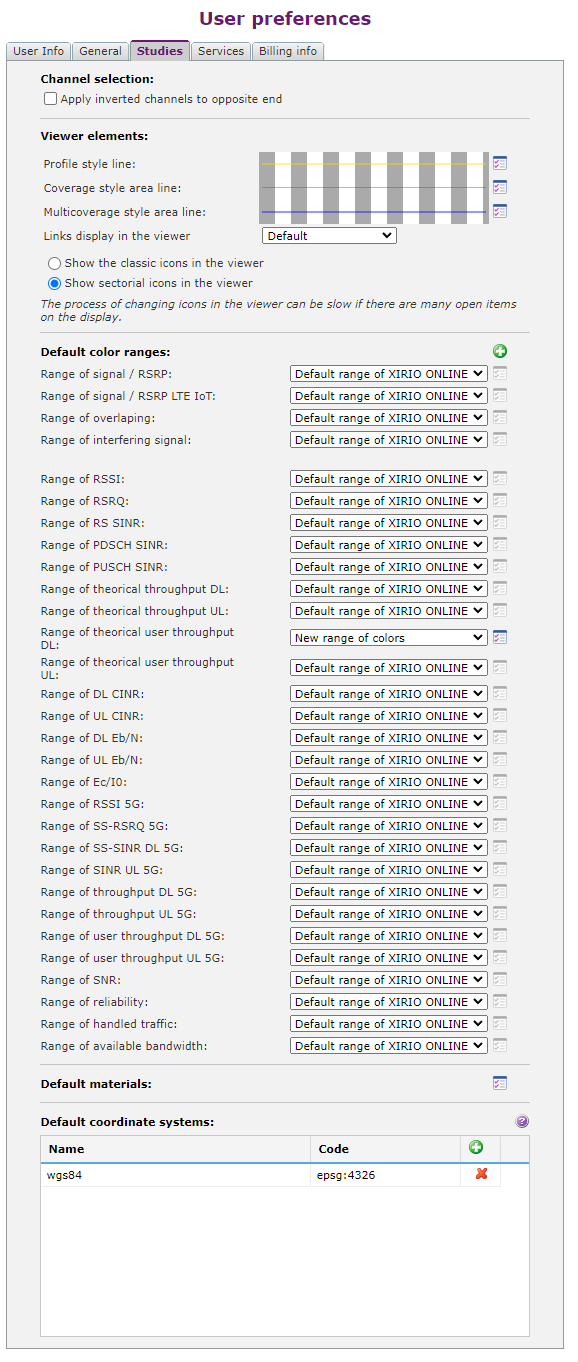 •Viewer elements. You can configure the color, thickness, and opacity of profile, cover, and multi-cover lines in the viewer.
•Show classic or sectorial icons in the viewer. The user can choose between using the classic X or sectorial X icons
•Default color ranges: You can configure the default ranges that are loaded when initializing a study.
oCoverage studies: signal ranges.
oMultiple coverage studies: signal ranges, overlap and interferences.
oLTE Studies: In addition to the above, it is possible to configure the default ranges of RSSI, RSRQ, RS SINR, PDSCH SINR, PUSCH SINR, DL theoretical throughput and UL theoretical throughput.
oHF studies: signal ranges, SNR and availability.
•Default materials: List of materials when initializing a new interior layer in the interior mapping editor editor de cartografía de interiores.
•Default coordinate systems: User-defined coordinate systems for use in the coordinate calculator, importing locations, POIs, fixed users, and measurements. These coordinate systems are defined through their identifier, which supports several formats.