Once service is selected and coverage study is created, the dialog will open to configure the coverage parameters.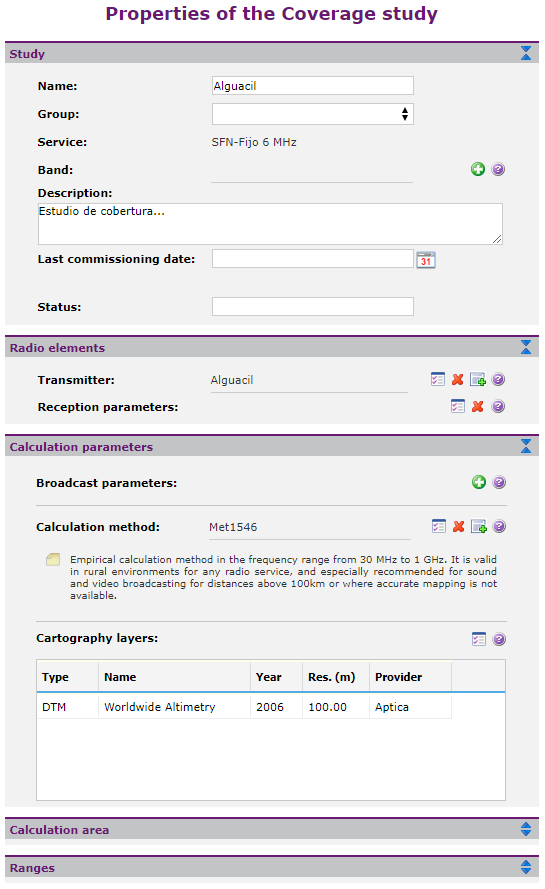 The necessary parameters to carry out a coverage study are the following ones:
•Name. Name which identifies the coverage study..
•Service. Technology selected for the study.
•Band. Frequency band assigned to each radio service. The user can define a lower subband and, optionally, a higher subband. It is also possible to introduce a set of limitations on the use of certain frequencies in the band.
•Description. Comments or information the user wants to add more information to provide..
•Transmitter. Transmitting Station of the coverage study. It is possible to modify its parameters (location and radio parameters) by selecting the option

.
•Reception Parameters. The coverage receiver only contains receiver radio parameters. It does not have a geographical fixed location but the sign reception is analyzed with this equipment configuration in all pixels of the coverage area. That's why, the only element the user will see when consults the coverage result in the viewer is the transmitter.
•Compute method. lgorithms to be used in calculation of propagation losses. It can be modified by selecting the option

.
•Cartographic layers. This is a list of cartographic layers to be used in calculation. To add or remove layers of the study you need to access management cartography window clicking

.
•Calculation area. Geographical area where calculations will be made and on which result will be obtained.
•Signal ranges. Range of colors that identify signal level in the results visualization.
All the fields are automatically loaded with predefined values by Xirio, when service is selected in the study, with suitable values for simulation type to be performed. These parameters can be modifiable. There are two exceptions: transmitter and area, which have to be defined for the user because these are particular simulation values
SPECIFIC PARAMETERS FOR 3G AND 4G MOBILE TECHNOLOGIES
Due to their technological characteristics, coverage studies in 3G and 4G mobile technologies require a number of specific parameters. These parameters only appear in the Coverage properties window when selecting one of these technologies:
•3G technologies (UMTS / DCMA2000). In the case of a 3rd generation (UMTS or DCMA2000) coverage study the following parameters will be available in the "Calculation parameters" section.
oPath type. The user can select whether to simulate the uplink path or downlink path.
o3G parameters. Set of specific 3G parameters (UMTS / DCMA2000) that influence the signal propagation of these services: Power increase (dB), SHO gain for shadows, Users number y Maximum/medium propagation loss ratio (dB).
•3G technologies (HSDPA / HSUPA). Relación pérdida de propagación máxima/media the following specific 3G parameters (HSDPA / HSUPA) will be available in the "Calculation parameters" section.
•4G technologies (LTE). If the service of the coverage study is a 4th generation mobile service, there are not specific 4G parameters in the "Calculation parameters" section, they are available in sector parameters and in mobile terminal parameters.